RED FANG Premiere "Shadows" Music Video via Funny Or Die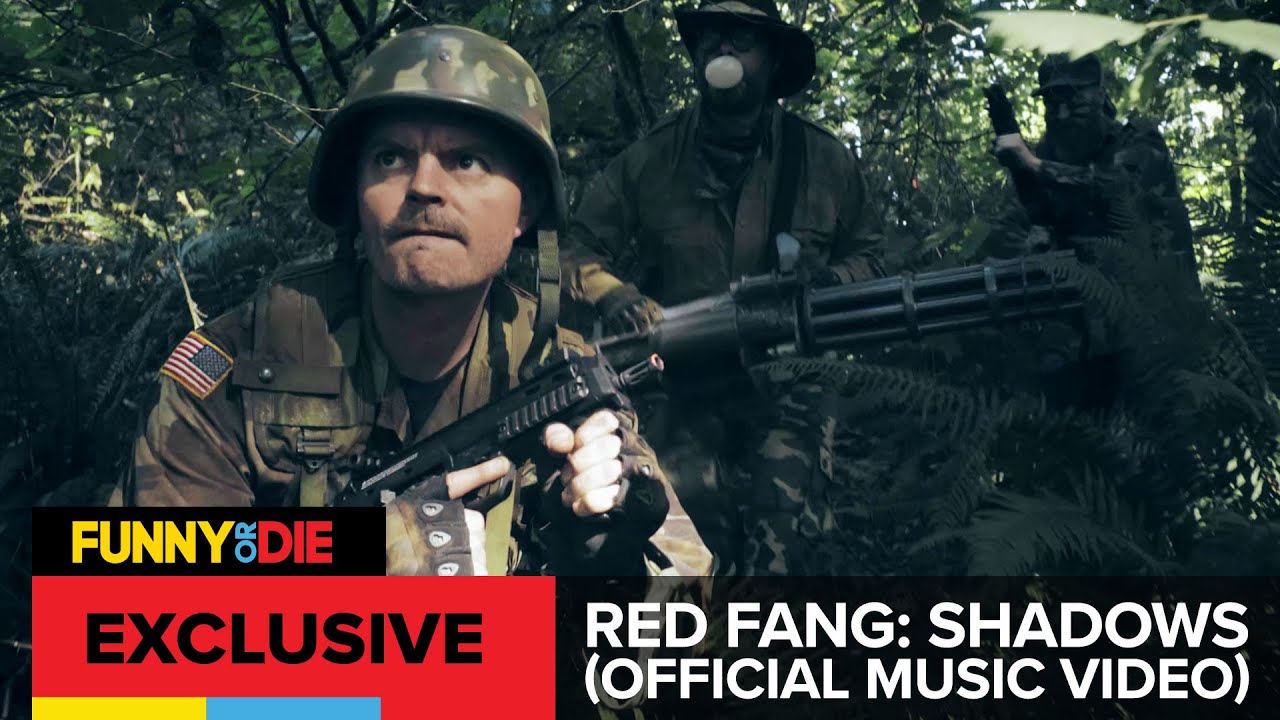 Portland rockers RED FANG mess with the wrong comic book collectors in the band's new video for "Shadows," which debuted via Funny or Die this morning and can be viewed HERE or below.
"We had the pleasure of working with Whitey (McConnaughy) again on another music video," the band's singer/guitar player Bryan Giles commented of the Predator-like clip. "It was a crazy adventure through the woods in rural Oregon. It has stunt men, real firepower and some great explosions! We had a blast on this one."
The video is the sixth to pair RED FANG and director McConnaughy; the first clip from the partnership was 2010's "Prehistoric Dog" (https://youtu.be/VufilzHKTqk), which saw the Portland-based band challenge a local role playing troupe only to suffer the consequences. The most recent video from the band & McConnaughy is the 2013 clip featuring Fred Armisen and a horde of beer-thirsty zombies in "Blood Like Cream" (https://youtu.be/7KWhqIoRufQ).
RED FANG have been vocal about their transformative experience working with Robinson, with the band saying the sessions marked "a huge leap forward for us" and adding that they feel like "a better band for it." A series of in-studio videos are rolling out via Relapse Records' YouTube page, which can be viewed here or below.
The  band kick off an extensive fall tour on Sept. 26 with a month of European tour dates followed by another month of U.S. dates. Labelmates Torche will open on both runs with Whores joining the U.S. dates.
RED FANG Live:
After three years of vigorously touring the world, RED FANG, the beer-loving Portland-based rock band whose new album was included in Rolling Stone's list most anticipated 2016 releases, re-emerge with their greatest and latest full-length album, Only Ghosts. Produced by the legendary Ross Robinson (At The Drive In, The Cure, Slipknot, and many more) and mixed by Joe Barresi (Queens of the Stone Age, Kyuss, Melvins), Only Ghosts consists of 10 new tracks of the band's signature, high-impact, hook-filled, hard rock. RED FANG prove once again they are top-notch songwriters who have mastered the heavy anthem without taking themselves too seriously. Only Ghosts is a rock album of incredible magnitude that demands to be played at maximum volume!
Only Ghosts is set for release this October 14 on CD/LP/Digital via Relapse Records. Physical pre-orders are available via Relapse.com here, and digital pre-orders can be found at the band's Bandcamp page at this location.
The debut single from the album, "Flies," can be heard now at this location or below:
Additionally, RED FANG's music and likeness are featured on Pabst Blue Ribbon's new pinball machine, the Can Crusher, which was unveiled at San Diego Comic-Con. The machine, developed in partnership with Stern Pinball, Inc., features a retro game design with art by Dirty Donny.
Info/Bio:
Ever since their inception in 2005, Portland's RED FANG have strived to write heavy, catchy music underlaid with subtle complexities. Founded by David Sullivan, Maurice Bryan Giles, Aaron Beam, and John Sherman, the band had a distinctive and fully-formed sound right from the start: a mix of compelling rock songwriting and party-hard metal euphoria that speaks to the headbanger, the hesher, and the music student alike. The band's two-pronged vocal attack and knack for finding the sharpest hooks made sure that the music world caught on right away. Within just one year of RED FANG's first show, they were opening for genre stalwarts Big Business and The Melvins, and soon began appearing at festivals including FYF, Fun Fun Fun Fest, Sasquatch Fest, and more.
After the release of their self-titled debut (Sargent House, 2009), RED FANG signed to independent label Relapse Records for the release of their 2011 full-length Murder the Mountains, which hit #25 on the US Top Heatseekers chart and received widespread critical acclaim. RED FANG followed that record up with a slew of dates worldwide, and two years later, released Whales and Leeches, which put the band on the US Billboard charts (at #66) for the first time and garnered praise from outlets ranging from Spin and Metal Injection to Stereogum and Alternative Press. The success of Whales and Leeches even led to a live appearance on Late Show with David Letterman in January 2014.
Additionally, RED FANG have gained renown for their inventive comedic music videos directed by Whitey MConnaughy, several of which have become viral hits. The band's videos have received more than 10,000,000 views in total. RED FANG have more than made a name for themselves on the live circuit as well. Over the years, they've toured with prominent artists such as In Flames, Opeth, Mastodon, The Dillinger Escape Plan, Helmet, and Crowbar, and have appeared at major festivals including Hellfest, Rockstar Mayhem Fest, Wacken, Roadburn, and many others. In their travels, RED FANG have performed across the globe, from North America and South America to Europe, Russia, and Australia.
RED FANG is:
John Sherman – Drums
Aaron Beam – Bass, Vocals
David Sullivan – Guitar
Maurice Bryan Giles – Guitar, Vocals
Official links:
Red Fang Official Site
Red Fang on Facebook
Red Fang on Bandcamp
Red Fang on Instagram
Red Fang on Twitter